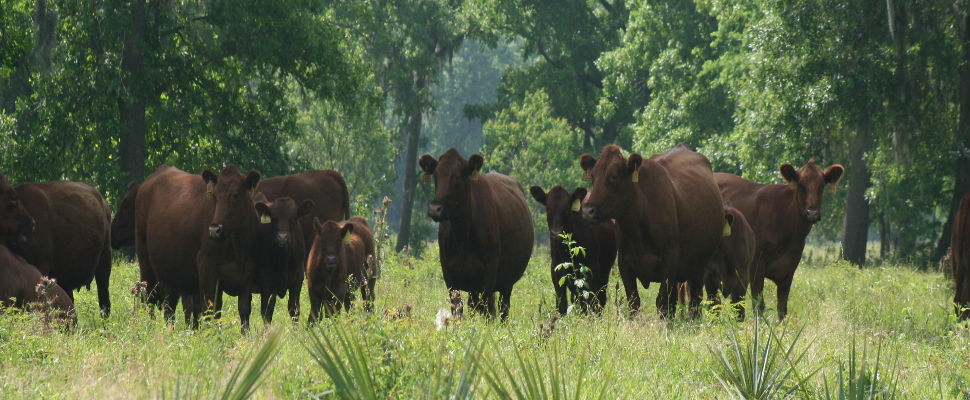 Texas Cattle Ranch - Our Philosophy
---
At our Texas cattle ranch we truly believe in the value of the Red Angus breed. We had opportunities to use Red Angus bulls in our commercial operation for many years. In doing so, we realized how valuable they were in producing the type of cattle that fit the industries needs. It is so enjoyable to raise cattle that are very maternal, easy fleshing, excellent disposition, and heat tolerant.
As part of our ranch philosophy, we firmly believe in producing cattle with good feet and no other structural problems. Although we work to maintain a balance between economically valuable traits, often when breeders chase carcass data the cattle's structure gets left behind. We're not going to give up structure to get a better carcass. At our Texas cattle ranch, we will keep a balance between the two.
We do believe in building and managing our cattle's performance database. We are happy to see the accomplishments noted by our commercial customers, and we appreciate the years of data sent to us that show how the cattle we produced have performed.
We know consumers want to see more consistency in their beef, and although Red Angus cattle are a very consistent product, we strive to maintain and build upon that characteristic. Increased fertility is also considered a priority for our Red Angus breed, and we work toward that while keeping other desirable maternal qualities such as calving ease.
We don't think it is necessary to persuade customers to buy the Red Angus breed. The Red Angus Association of America, generations of Red Angus breeders, and the breed itself have already accomplished that, especially within the last decade or so. Most in the industry today are aware of the cattle's performance and advantages to a herd, and Red Angus now ranks among the nation's top cattle breeds. Our goal for this website is to let new customers know about our Red Angus ranch in Texas, and to provide the convenience of learning online a little about us and what we have to offer.
We enjoy meeting with new customers who visit our Texas cattle ranch, and we welcome your questions and comments. We are very proud to be a part of the cattle industry and the Red Angus family, and we look forward to increasing our operation to continue meeting the commercial cattle industry's needs today as well as tomorrow.