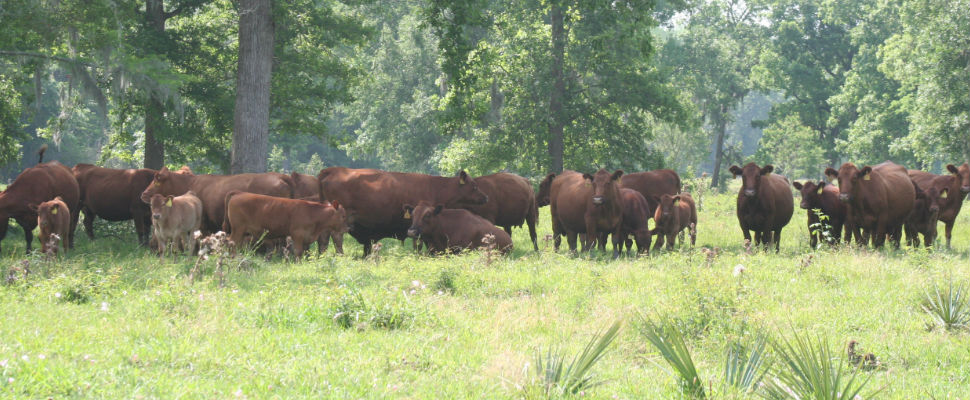 Red Angus Breeder - Ranch Vision
---
Trinity River Land & Cattle Company's vision as a Red Angus breeder is to raise registered cattle that meet the requirements of today's commercial cattlemen. Using the finest Red Angus herd sires and donor cows we could find, we've made meticulous selections and performed constant culling through generations of cattle to produce the best product for our environment with structural soundness and a balance of economically desirable traits.
We've increased our registered Red Angus to about 150 head, and see the number of registered breeding bulls and heifers we are able to offer for sale continuing to rise. That increased production will be coupled with improved genetics at our registered cattle ranch.
As a Red Angus breeder, we can tell which cattle in a herd are the best and which ones should be culled. We want all of the cattle on our Red Angus ranch to be top end, and from day one have strived to create very little gap between the top and bottom end of the herd. We envision that gap closed in the future.
Although known for their ability to adapt to harsh environments, some strands of Red Angus do better in the winter months, so we are still working through a stringent culling process to produce cattle that perform the best in our harsh Gulf Coast heat and humidity. Through culling and genetic traits management, along with AI and ET programs that leave little to chance, our production of beef cattle seedstock will improve even more.
Our product is getting better and better, and we plan to continue expanding the operation. Although we currently only use embryos for transfer in our breeding program, in the next few years we expect to be offering top quality, purebred Red Angus embryo sales through our registered cattle ranch.
Our ranch continues to be very stable, and we plan to be here for generations more. As a registered Red Angus breeder producing top performing cattle, we see our gains helping to improve the beef industry today and in the future. The days ahead look exciting and bright.