Red Angus Heifers For Sale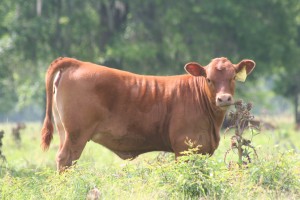 Commercial Breeding & Show Heifers
Trinity River Land & Cattle Company offers an excellent selection of Red Angus heifers for sale in Texas. Whether you are looking for commercial breeding heifers or Red Angus show heifers for sale, we welcome your visit to our ranch.
The Red Angus heifers for sale as commercial breeding heifers range in age from 8 month to approaching two-year-olds. They will make the best mother cows, and will excel in your commercial cattle operation. Red Angus mature early, calving as two year olds without excessive nutrients, and are known for their fertility, easy calving and unassisted births. They deliver live calves with low birth weights, yet calves are healthy and heavy when weaned. Red Angus cows are very maternal, and produce an abundance of milk right up to weaning. They can also bring an increased longevity in production lifetime to your herd.
These Red Angus heifers for sale were not pampered, but rather were raised to meet the needs of the commercial cattle industry. The herd remains out year around, and as Texas Red Angus heifers they are already acclimated to heat and high humidity. Their genetics help them to handle it well.
Red Angus breeders were the first to focus on improving genetics to meet the requirements of commercial cattlemen, and through the years they have successfully accomplished it. If you want to increase your herd's fertility and profitability, invest in Red Angus heifers. Bred for efficient beef production, their genetics can add many benefits to any cattle producer's program.
Red Angus Show Heifers for Sale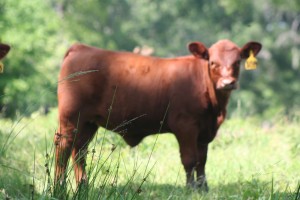 Although our Red Angus ranch is primarily focused on producing Red Angus seedstock for commercial cattlemen, we do offer select registered Red Angus show heifers for sale. These show heifers are young, recently weaned calves ready for training. Red Angus cattle are known for their gentle temperament, making them more enjoyable for youths to raise and show. The show heifers are prettier, and are produced by top bloodlines. The quality of genetics of these Red Angus show heifers can also prove valuable as prospect donor cows for improving a herd.
To learn more about the Red Angus heifers for sale by private treaty, contact us at (936) 329-4259.